Neillsville Police Department
---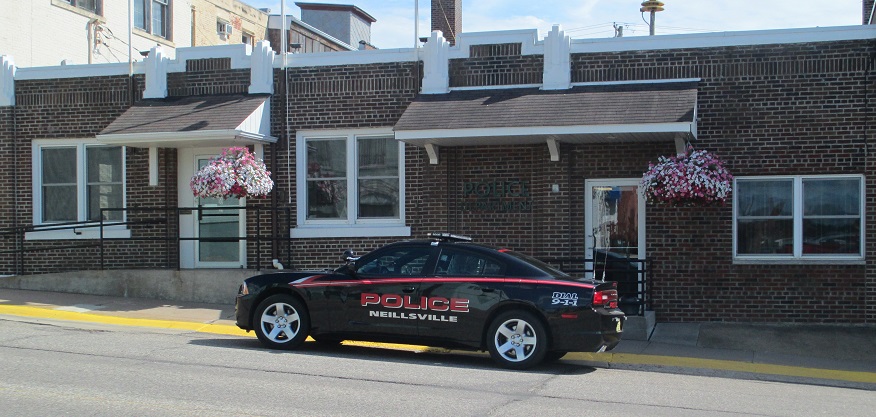 The Police Department consists of the Chief of Police, five police officers, office manager, and parking enforcement officer.
The department provides 24-hour, seven-day-a-week police coverage for the city by: enforcement of state statutes and city ordinances; prevention and determent of crime; protection of citizen health and safety; the maintaining of public peace and order; assistance with traffic forms and questions; issuance of bow-hunting (within the city limits) and parking permits; assisting other emergency personnel at fire or accident scenes; the Chief of Police also has the duties of Emergency Government Director for the city.
Parking and Ordinance Citations
The Neillsville Police Department accepts parking and ordinance citation payments by mail or at the police department office at 118 W. Fifth Street. Cash or check accepted.
You can help us ensure the safety of everyone in our community!
If you have a safety concern, or witness unusual or suspicious activity, please Complete and submit a Safety Concern Reporting Form. All concerns will be investigated, and if requested, an officer will contact you regarding your concern.
Going on vacation or heading south for the winter?
Don't worry - we'll watch the place!
Let us know when you'll be gone, and we'll keep an eye on the exterior of your home until you return. Just complete a Home Watch Request Form, and we'll take it from there!
---
Chief of Police:  Jim Mankowski
Phone:
(715) 743-3122
Address:
City Hall, 118 W. Fifth Street
Hours:
8:00 a.m. - 4:00 p.m.
Police Reports
To request a police report, please call the Neillsville Police Department at the phone number above, or stop by the office.
In an Emergency, dial 911.
E-mail:
neillsville.police@neillsvillepd.org