---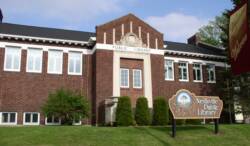 The Neillsville Public Library had its beginning back in 1879 as the Neillsville Library Association, and was housed in various locations until 1914.  Fortunately, the City of Neillsville had a direct link to the Carnegie Foundation via one Mrs. J.W. Hommel, who with her second husband was a resident of Neillsville.  Mrs. Hommel's first husband was George C. Carnegie, whose father was a nephew of Andrew Carnegie. 
Thanks in part to that relationship Neillsville was allotted $10,000 for the construction of a new library. The Chicago architect, George Awsumb, was hired to design the building.  True to Carnegie standards, the brick structure stands stately atop a hill and remains today in its original splendor.  Following their original lead the city constructed an addition in 1994 nearly doubling the size of the library facility while remaining true to the Carnegie brick design.
Library services include collections of books, periodicals, video and audio cassettes, DVDs, CDs, Clark County Press microfilm, access to interlibrary loan services, computers with internet access available for public use, children's story hour/program, summer library program and much more.
Public Library
Address:
409 Hewett Street
Phone:
(715) 743-2558
Hours:
Mon: 9 am - 8 pm
Tue: 9 am - 5 pm
Wed: 9 am - 8 pm
Thur: 9 am - 5 pm
Fri: 9 am - 5 pm
Sat: 9 am - 12 noon
Closed Sundays & Holidays